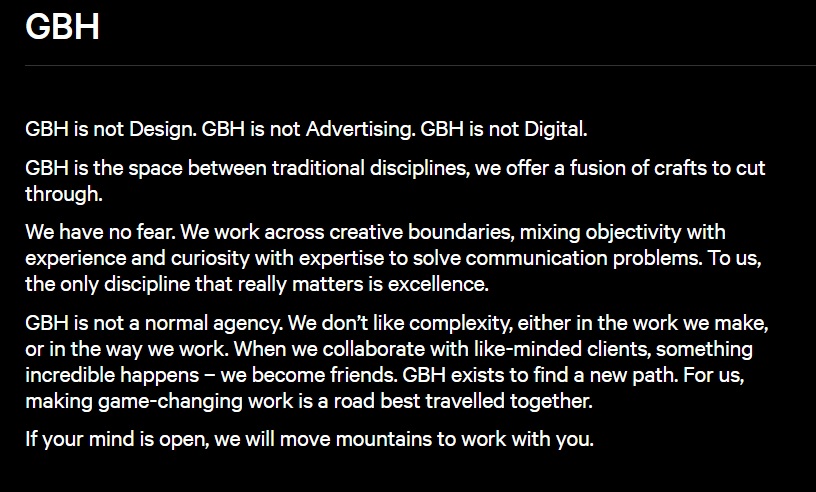 A recent article on creativebloq.com looks at 13 secrets for creating game-changing branding
"We never set about our own agency as a kind of sausage factory approach where we're good at one thing and repeat that recipe," adds Bonner. "For us, every problem is individual, and the solutions should be completely different from one another."
Proudly multi-disciplinary agency GBH doesn't do 'average'. The studio founders share their top tips for creating pioneering design.
When Jason Gregory, Mark Bonner and Peter Hale met at the Royal College of Art, they found an invigorating, cross-disciplinary "Bauhaus atmosphere" that sowed the early seed for the eponymous London agency they would later co-found: Gregory Bonner Hale, better known simply as GBH.
"The hub was the art bar. You'd be talking to people that made furniture and were designing cars and making films," recalls creative director Bonner, who also took up the role of D&AD president in September 2014.
"That's a big part of the way we are now," Bonner adds. "We hate doing the same thing twice, that's our problem."
Here, Gregory, Bonner and Hale discuss the secrets to the agency's game-changing work, and explain how GBH's refusal to be pigeonholed works in practice…
Starting over keeps it fresh
Begin with a simple idea
Sound thinking is essential
Every project should be your best
Never compromise
Collaboration keeps it interesting
Choose your clients carefully
Turn tradition on its head
The future of design is multi-disciplinary
Think: anything goes
Get out of your comfort zone
Be ambitious
Tell the story in a memorable way
Read the full article at http://www.creativebloq.com/branding/13-secrets-creating-game-changing-branding-41514587
Receive Blog Posts via email
Share with your friends and colleagues