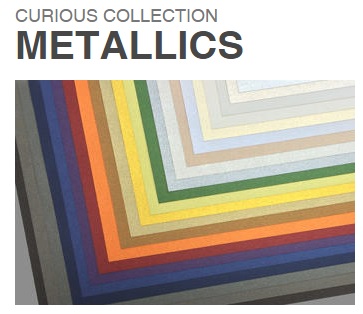 Mohawk revealed the new Curious Digital line at Dscoop 2017 in Phoenix, AZ.
Marking the next milestone in the alliance with Arjowiggins Creative Papers, Mohawk is excited to announce the launch of new Curious Digital with i-Tone® papers designed for digital print applications.
These new products feature Mohawk's proprietary i-Tone® surface chemistry designed to enhance ink/toner adhesion and improve runnability on digital presses. Available exclusively through Mohawk in North America, these products are extraordinary papers for the senses designed to provide a saturated color, unique appearance or unusual texture. This new offering includes a carefully curated range of colors and 4 luxe, unique textures from The Curious Collection.
Curious Metallics Digital with i-Tone
Featuring a distinctive texture to enhance shimmer and appearance.
Outstanding formation
Curious Matter Digital with i-Tone
Rich saturated shades featuring an unrivaled, grainy texture.
Manufactured with upcycled potato starch. By-product of food industry.
Curious Skin Digital with i-Tone
Unique matte surface and saturated, vibrant colors that invite touch and feel.
Resistant to rub & fingerprints.
Curious Translucent Digital with i-Tone
Naturally translucent papers for design layering or show through.
Truly organic (100% cellulose fiber), no chemical translucentizing.
FDA compliant for food contact
Learn more at MohawkConnects.com
Receive Blog Posts via email
Share with your friends and colleagues