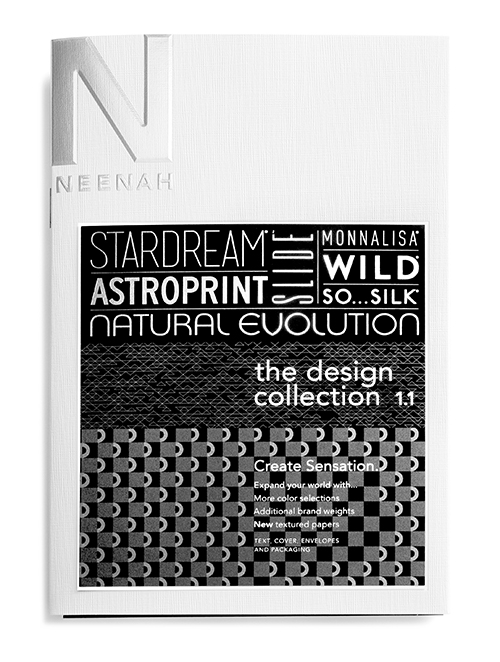 Neenah Paper announced that it has expanded  The Design Collection to include four new premium paper grades from Italian papermaker Gruppo Cordenons. Neenah also today announced the expansion of the popular STARDREAM® and WILD® Papers lines.
"The demand for The Design Collection has surpassed our every expectation," said Bliske. "We can't wait to see what designers will do with all the new items."
With the expansion, The Design Collection now offers more unique options for designers to set their work apart. These papers are specified for premium packaging, look books, high-end brochures, gift card holders, greeting cards, identity materials, and other print collateral for brands that desire to distinguish themselves by both hand and eye.
NEW PAPER LINES
EXPANDED PAPER LINES
Neenah has also expanded these popular lines:
STARDREAM Papers, added C1S text weights for box wrap in the most popular colors.
WILD Papers now includes four new colors in popular 111 lb. Cover: Sand, Clay, Brown and Black.
THE DESIGN COLLECTION 1.1  
With these additions, The Design Collection now offers 15 paper brands, blending six iconic paper lines from North America and 9 on-trend Italian brands.
"The Design Collection 1.1 includes more on trend colors and high touch surfaces for print and packaging with SLIDE, ASTROPRINT and STARDREAM Papers as well as new colors for letterpress in WILD Papers," said Ellen Bliske, Sr. Brand Manager at Neenah.
Receive Blog Posts via email
Share with your friends and colleagues