Agency Contact: Williams and House – Lisa House, 860.305.4969
Precise Continental Receives Retired Carbon Certificate from the Arbor Day Foundation
Harrison, NJ, June 26, 2017 – As part of their ongoing commitment to the environment, Precise Continental, an award-winning specialty printer, announced twenty five metric tons of carbon dioxide have been offset and retired through a donation to plant trees helping to restore lands in Mississippi's Alluvial Valley through a partnership with the Arbor Day Foundation. The Arbor Day Foundation has more than 45 years of experience sequestering carbon through trees. Carbon offsets are important in the efforts to combat climate change.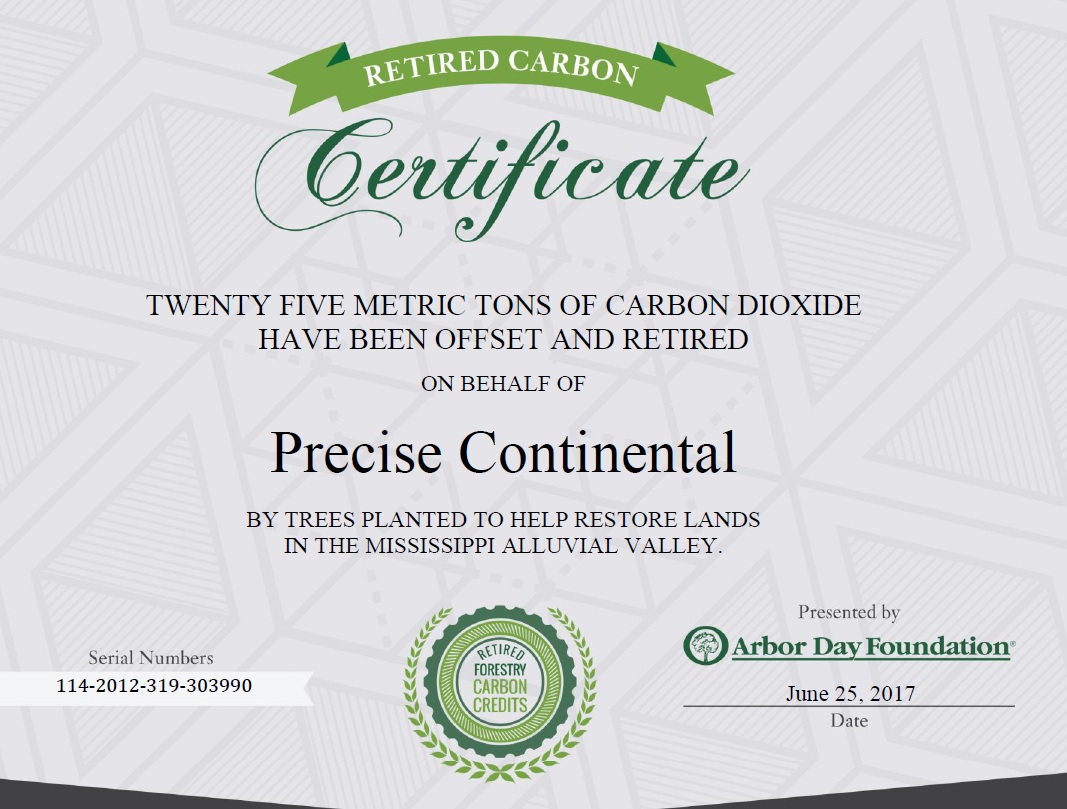 The amount offset equals 100% of the company's carbon footprint. According to Sheila Donnelly, Vice President of Precise Continental, "We have a tradition of environmentally responsible practices that coincide industry standards, our clients' demands, and our own respect for Mother Earth."
Precise Continental is firmly dedicated to making the least amount of impact on the environment, subscribing to numerous measurable efforts. The company recycles virtually 100% of the paper waste they generate. Last year, Precise Continental recycled 63 tons of paper and cardboard. In addition, the company recycles 100% of their aluminum lithographic printing plates, copper engraving dies and copper and magnesium foil dies. "We believe that every step which can be taken to protect and preserve the resources that are entrusted to us, to reduce waste, and to place a common good above fleeting immediate gains, is one step closer to a safe work environment, a healthy neighborhood and a flourishing global community," stated Sheila Donnelly.
They are an Agfa Graphics GreenWorksTM accredited printer, having proactively demonstrated environmental responsibility. In addition, they have achieved the Forest Stewardship Council's Chain of Custody Certification, helping their customers choose products that contribute to global conservation, community well-being and economic stability, and undergo annual audits to main the chain of custody.
Additional environment efforts include installing the Agfa Accento Chemistry-free platemaker, which in a months' time, saves 5,400 gallons of water. The plant has updated all light fixtures to energy efficient models, installed motion sensors to decrease electrical energy. And, use low VOC inks for all projects; many of which are also vegetable-based which are non-toxic and non-polluting.
About Arbor Day Foundation
Arbor Day Foundation is a million member nonprofit conservation and education organization with the mission to inspire people to plant, nurture and celebrate trees. More information is available at arborday.org.
About Precise Continental
Precise Continental is an award winning specialty printer located just outside NYC in Harrison, NJ, where they manage the print requirements for numerous financial and corporate brands. Precise Continental has always taken a visionary approach. The team at Precise keeps an eye trained on client needs and the direction of their businesses while maintaining a keen focus on the industry's evolution. www.precisecontinental.com
Receive Blog Posts via email
Share with your friends and colleagues