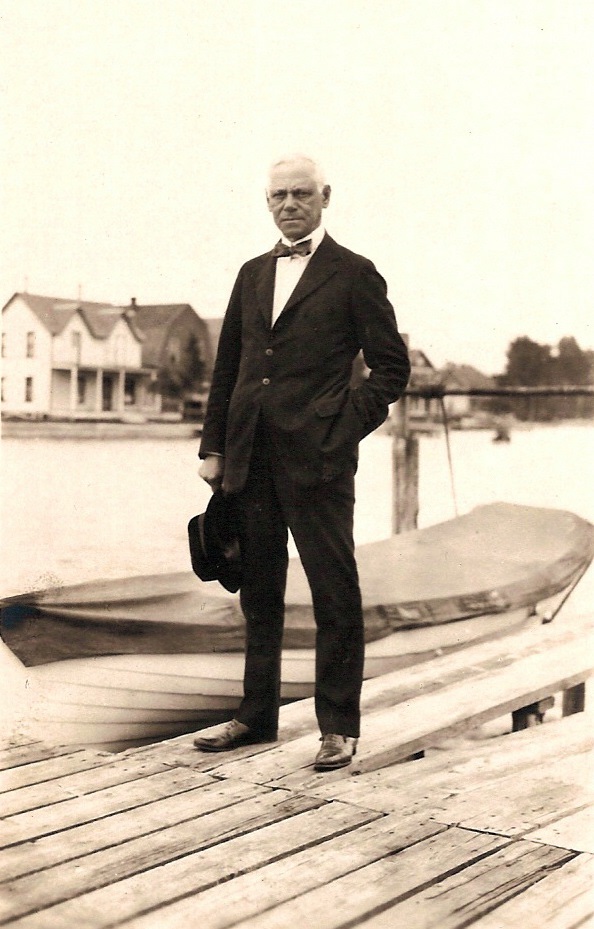 On November 16, 2015 MohawkConnects shared the case study behind Joseph Magnus select spirits, the craft behind it and the craft behind the labels which Precise Continental printed. 
Joseph A. Magnus was just a boy of six when his father was killed in the Civil War. He, his mother, and his three siblings struggled after the war and, at age 12, Magnus went to work while still in school, taking on the role of patriarch and provider. Even at that young age, it was clear he was driven to be successful.
In 1892, Magnus mastered the distillery trade and established Joseph A. Magnus & Co. as a producer and dealer in well-regarded brands of whiskey.  Magnus eventually became an American success story. At one time, his Murray Hill Club Rye was the most prominent brand of rye in the South.
Joseph A. Magnus closed his stills in 1918. Jimmy Turner, great-grandson of Joseph A. Magnus, shares his great-grandfather's entrepreneurial drive. After stumbling upon the family connection and discovering wonderful ancestral stories told by family members who ultimately presented him with a 123-year-old bottle of his great-grandfather's bourbon, Jimmy was inspired to bring the recipe and the distillery back to life. The stellar team behind the rebirth of Joseph A. Magnus & Co. is excited and proud to honor the legacy begun by Joseph A. Magnus and to offer patrons the finest distilled spirits.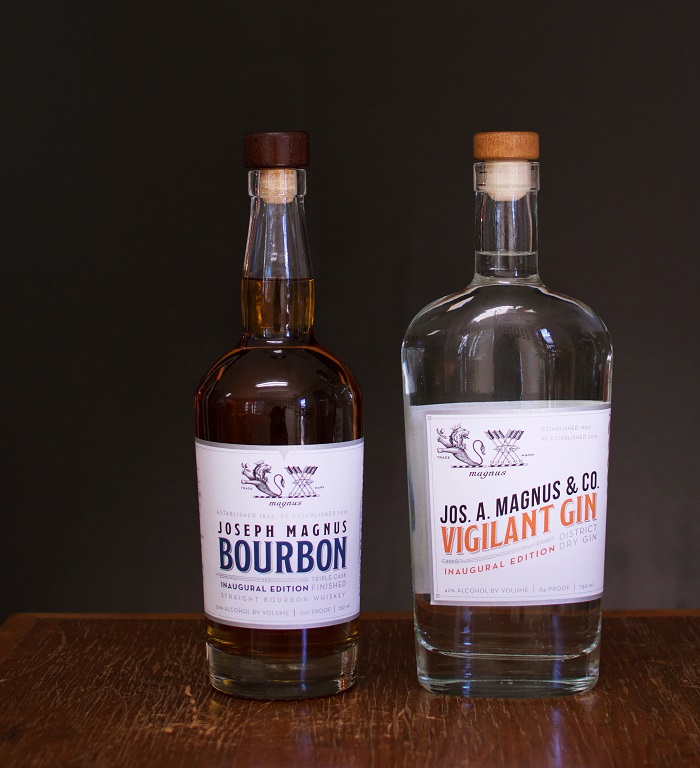 In 2014, Red Chalk Studios was selected to develop the Magnus brand, just as the business was getting re-established. They were given what little background information the partners had on Magnus which, at the time, was not much. Their approach was to host an Out-of-Focus Whiskey Roundtable. "We asked a group of whiskey lovers to provide insights into what differentiates drinkers of whiskey from other spirits drinkers—perceptions, personalities that represent the whiskey as a brand. At the same time we were gaining insight on whiskey characteristics that appeal and conversely, don't appeal," according to Kim Nelson, Founder and Creative Director of Red Chalk Studios. "Armed with these insights and knowing what we did about Joseph Magnus, we crafted the foundation of the brand."
"Joseph A. Magnus's great-grandfather was Abraham Alexander Sr., Collector of the Port of Charleston, South Carolina. He was part of the group known as the 11 Gentlemen of Charleston and he also passed down a special ring with a Lion, Flower and Quiver of Arrows on it that inspired the original Joseph A. Magnus & Co. trademark. We reused that mark to represent Magnus: the Respected Leader, the Understated Rebel, The Driven Laborer, the Fearless Dreamer and at all times, the distiller of Remarkable Spirits for Remarkable People."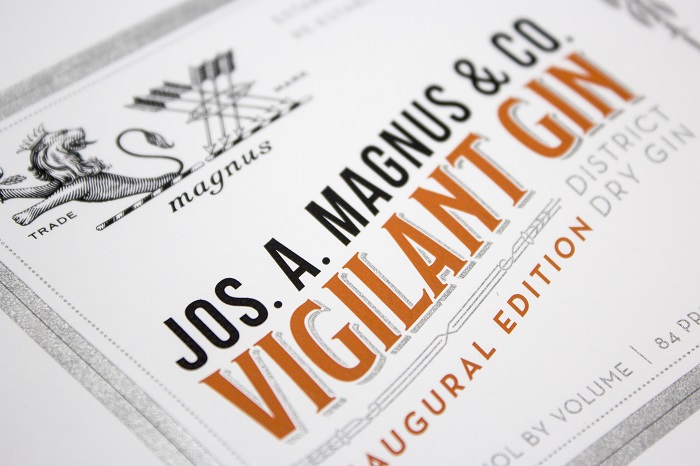 "We knew we wanted a look that felt pre-Prohibition, paying homage to the original brand. We borrowed ideas, typographic treatments and font families from that era. We kept the overall design uncluttered and airy allowing each element on the label to have its "hero moment."
"We wanted it printed in a way that would fit the design aesthetic and feel special. Jim at Precise Continental was wonderful to work with, guiding us toward three-colored engraving to deliver the effect we desired and artfully reproduce the challenging detailed artwork.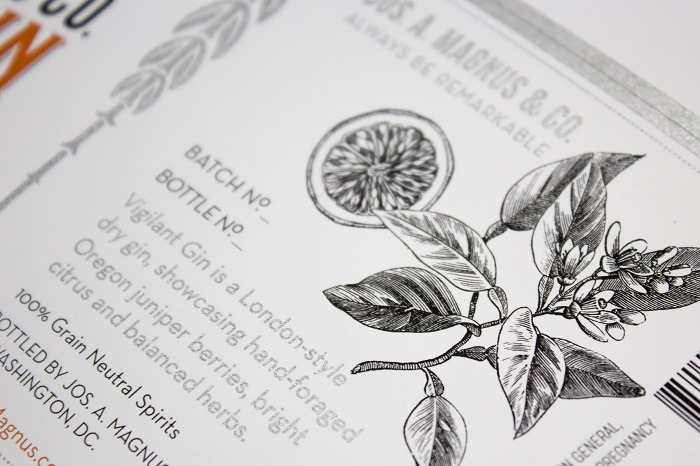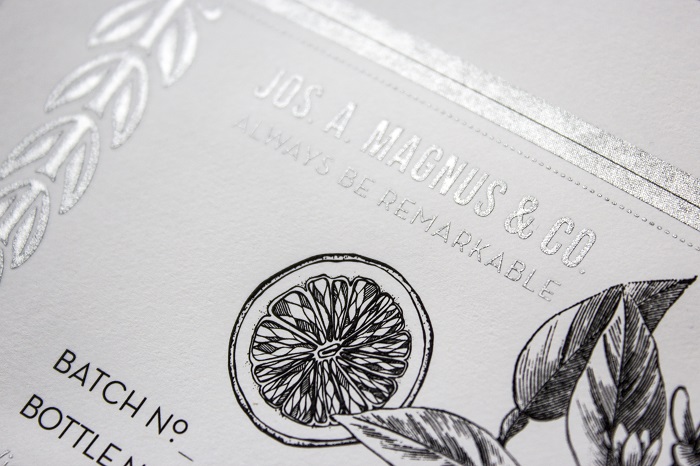 \
"And the third player in this brand is paper choice. We wanted a stock that had tooth and would hold up to engraving. The Strathmore label stock (Strathmore Wove Label Ultimate White 70 Text) from Mohawk performed beautifully! It, along with the printing process, elevated the design tremendously.The client and their customers are very pleased with the result, as are we. We're now working on the Joseph Magnus vodka label."
Client: Jos. A. Magnus & Co.
Design: Red Chalk Studios, Virginia Beach, VA
Printer: Precise Continental, Harrison, NJ
Label Stock: Strathmore Wove Label Ultimate White 70 Text
Printing: 3C Engraving—PMS 8001 Metallic Silver, PMS 152 Orange, Black
Receive Blog Posts via email
Share with your friends and colleagues