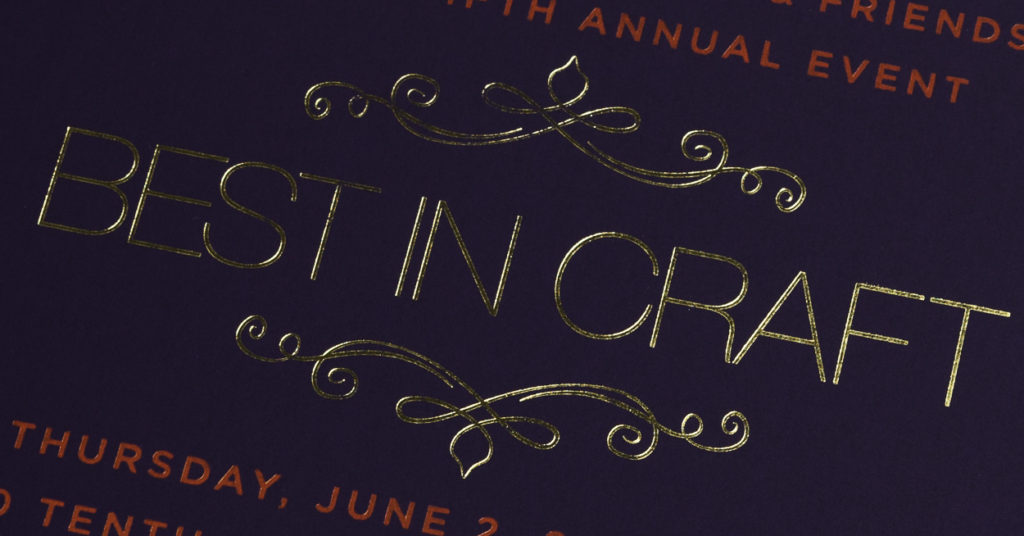 I'm honored to have another article featured in Graphic Arts Magazine! This time I discuss how designers and brand managers can incorporate foil stamping, a cost-effective way to add dimension and luxury to a print project.
Sheila Donnelly of Precise Continental (Harrison, NJ), a custom engraving and specialty print shop with over 35 years of working with creatives and brand managers, is an expert in walking her clients through every aspect of the design process, addressing considerations when crossing from screen to print, and considering the most cost-effective way to manage printed collateral. She works with brand managers from some of the most well-known luxury brands, to freelance designers focused on financial management firms – and everything else one might imagine.

Yes, many of us may spend the majority of our time connected to a keyboard and a screen, as it's the nature of today's current source of information and communication. However, a thoughtfully designed, beautifully printed invitation, letterhead or business card continues to be perceived as more personal and authentic than its electronic counterpart. As young designers continue to find ways to maintain the momentum of the maker movement, they're helping to resurrect various forms of old-world craftsmanship and influence markets – be it craft brewing, hand-knitted sweaters or print production. Letterpress was one of the first specialty techniques to see a resurrection. Now, foil stamping, though it has long-maintained its presence for traditional applications, is a technique that designers are currently re-discovering and re-energizing! Foil stamping is a sure-fire and often cost-effective way to add dimension and luxury to a print project. It's a versatile technique that lends itself well to showcasing creative design, both on its own as well as combined with other print techniques. Here's a quick look at why foil stamping might be right for your next project.

Type, logos, designs, oh my! You've seen it used for fine lines, scripted type, solid areas and intricate design. That's because foil stamping works for almost anything. When the light hits a foil design, it makes people want to pick up, hold and examine the object. Foil can make a simple business card become instantly impressive, an ornate invitation ooze sophistication, a presentation folder get opened and kept, a book cover inspire imagination, and add a level of luxury to a perfectly packaged product. While foil stamping is versatile, there are some guidelines for designing for the technique. It's always wise to speak with your printer before finalizing any project, as other factors of the production can play a part. Here are some common design considerations:

Keep rule thickness no less than .5 points.
When combining offset printing with foil, special inks are required, so make sure your vendors are working together or use one vendor to handle the project.
If your design has large areas of coverage and intricate detail in the same colour, it may require two separate dies and passes.

Beyond the silver and gold. When was the last time you looked at the full range of colours available for foils? Of course there are different shades of golds, silvers and coppers. But did you know that choices also include spectacular shades of blues, purples, greens, oranges, yellows, reds, pearls, whites – and everything in between. You can even use multiple layers of foil in various colours, or combine foil with other printing and specialty techniques. The possibilities are limitless! There's also a variety of foil finishes to choose from – including metallic, glossy, pearlescent, holographic and even patterns such as marbling that can add even more interest to your design. Foils, however, don't follow the Pantone system, so be sure to ask your print partner for a colour chart before you finalize any designs that are intended to match identity colours. With a wide variety of colour choices, there's sure to be a matching or complementary colour for every project.

Pick a paper, any paper. Most foils are opaque. This means the colour you choose typically will not change based on the colour of the paper you're using. Therefore, foil is a great solution for designs that call for darker-coloured papers. If you're looking for a shine that pops off the paper, foil will create more of an impact than metallic inks. There are also semi-transparent tint foils, if you think you'd like the paper to show through. Because foil adheres to the surface of the paper, some paper finishes, particularly highly-textured surfaces, can affect the foil's ability to adhere properly. If your project calls for textured paper, talk to your printer about doing a die strike on the paper, and perhaps some alternate papers, so you can ensure that the end result is what you're looking to achieve. And don't forget, since the foil is applied to the paper with pressure, it can leave an impression on the reverse side of the paper. Depending on the thickness of the paper, it could factor into the design on the opposite side. This is another important consideration to discuss with your printer.
Click through to read the full article at graphicartsmag.com
Learn more about the process of Foil Stamping and see examples of our work here.
If you need assistance with a project or asipitation which includes embossing or any combination of our specialty printing processes, get in touch. We're here to help.
Receive Blog Posts via email
Share with your friends and colleagues