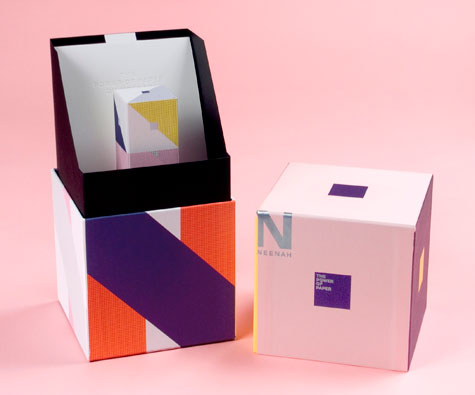 Neenah introduces its newest Power of Paper promotion, ON Neenah.
The promotion demonstrates the connection between the online world and that of meaningful print.
Once you easily slide off the top of the box, you'll find a portfolio of both two- and three-dimensional print examples. It shows you the power of paper and how it can help move communications ON Line, or create reminders that get people to events ON Time and keep communications ON Point. When it comes to mixed media campaigns, paper offers cool appeal that holds the reader's attention in a way online messages can't. We agree with Forbes that paper is on trend, as reported in this study from June of 2012:
"Consumers are more engaged when reading printed material, unlike websites, which are often skimmed in as little as 15 seconds. A study shows that people read digital screen text 20% – 30% slower than printed paper."
Online messages inundate us daily, but targeted direct mail printed on evocative paper substrates make an impact that drives meaningful Web interaction. Neenah invites you to get on board and elevate all of your printed materials, whether collateral or retail packaging, by specifying high quality, natural premium materials.
To get your copy contact your Neenah sales representative
Receive Blog Posts via email
Share with your friends and colleagues